It's Valentine's Day. Love is in the air. A day filled with hearts, chocolate, flowers and many people wearing red. It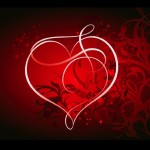 made me think of the cute advice I hear often when people are talking about careers and the word love is mentioned: "Do what you LOVE and the money will follow." The thought is that if you love what you do, it doesn't feel like work.
On any given day, there are things that we don't like to do. For instance, I'm not the best at balancing my checkbook, so I switch banks every few months (not really, but saying it makes for a good joke). I do know, however, that a career in finance is not my hearts' desire and that a job that requires working with spreadsheets and complex calculations day in and out is definitely not my cup of tea.  On the other hand, life-long learning is important to me and helping others is a passion. When I'm involved in coaching others to be their absolute best and thinking about creative ways to solve a problem time passes quickly and I LOVE what I'm doing.  I wish that for you as well!
Here's an interesting blog from a contributor to the Harvard Business Review called Joy at Work. It's something to think about when you are looking for passion in your career.
Happy Valentine's Day!
P.S. If you have a thought or comment about any of my blogs, please share on the S.O.A.R. website. Help spread the love for job and careers!