'May' I share an article with you?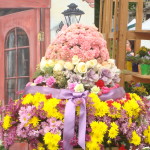 Happy May Day!  Do any of you remember dancing around a May Pole on this very special day?  Perhaps schools don't do this any longer, but it is definitely a first grade memory for me!  Of course, why I was dancing around the pole escapes me right now. You can be sure, however, that I did it with great joy and abandon.  😀
Now that spring is in full swing, it's fun to reflect on the joyful activities that May brings such as flower shows and festivals (this weekend is the annual Flower Mart in Baltimore), baseball (Go, O's!) and, of course, premiere horse racing events (Maryland, where I am located, has the Preakness). The annual Kentucky Derby is right around the corner and I received this wonderful article in my "in-box" this a.m., written by Amanda Augustine, and had to share it with you. I loved how she drew a correlation between the derby and a job search!  Are your career blinders on or off?  Here's to soaring!