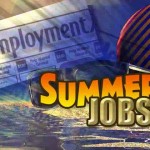 It's hot. Last week we saw temperatures soar way above 100. Whew!  Who can do anything in this heat? Add to that the heat index and you may feel like whiling the hours away at the pool. While that is relaxing (and tempting), you may want to consider a few career boosting summer activities.
Give back and learn a skill.  Volunteering is an excellent way to build your skills and also get in touch with people inside and outside of your industry. It's a wonderful way to get in front of people (leaders) who have similar values. Help out at your local food bank or welcome back individuals who have served in the armed forces. Google volunteering and you are well on your way
Learn to golf. While this isn't my cup of tea (get it?), golf is the number 1 networking sport and it is an excellent way to get you in at places where you never expected.
Invest in a course to brush up on skills like public speaking, Web design or another topic you may be interested in.  You never know who is sitting next to you … a new graduate, a manager or a vice president?
While you are basking in the heat, think about this:  At 211 degrees, water is hot.  At 212 degrees, it boils.  That one extra degree can make a difference.  Take 3 minutes right now to watch this inspiring video, 212: The Extra Degree.
And, turn it up one more notch this summer in searching for your ideal career. Here's to S.O.A.R.ing!!