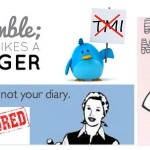 Job hunting today is much different from the last time I was out in the market. Many employers are using social networking sites to "see if their potential candidate is well-rounded," while others are finding "reasons not to hire someone."  So, as they used to say in a very popular show from the 80's, "let's be careful out there."  (Can any of you name that show?  Bonus points if you can name the actor).
According to an article I recently read in Forbes by Jacquelyn Smith, sites like Facebook, LinkedIn, Google+, and Facebook can give not only your friends, but future employers a glimpse of who you are far beyond the borders of a resume, cover letter, or interview. "About half of the employers interviewed said they didn't offer a job candidate the position because of provocative or inappropriate photos and information posted on his or her profile; while 45% said they chose not to hire someone because of evidence of drinking and/or drug use on his or her social profiles. Other reasons they decided not to offer the job: the candidate's profile displayed poor communication skills, he or she bad mouthed previous employers, made discriminatory comments related to race, gender, or religion, or lied about qualifications."
Next time you are tempted to post your inner most thoughts of frustration or perhaps share that photo that doesn't present you in a positive light, exercise caution.  Be sure that any profiles you are posting are free of typos, errors and the information makes sense. You may want to use this handy checklist to clean up your online image:
Evaluate your Privacy Settings – who can view your personal information
"Edit" Your Photos – take out the ones that are questionable.
Self Censor – Steer clear of inappropriate language, or language that can be construed as racist, sexist, offensive, or even culturally insensitive
Reevaluate Your "Groups" – back away from any group that could be taken as offensive.
If you really want a job, take the time to reflect on "what people would say about you" when checking out your site.  Perhaps, instead of spending more time "social media'ing,"  use that time to plan your job search and make those contacts.
Next posting I'll share some tips on using social media to help land a job.