It happens, doesn't it. You have the best of intentions to do something, yet can't seem to get around to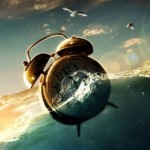 doing it. I've been meaning/wanting to write a post for several months now, but, I let time get the best of me (of course, the warm sun and beach were also calling. Guess that's one of the hazards of living so close to the ocean).
That being said, I do have some ideas for you if you are thinking about a career change or upgrade. Sometimes, around the holidays, with vacations, companies aren't hiring as frequently. If you take any time off or if you have some "extra" time on your hands, this is an excellent time to dust off your resume and update it and make plans for how you are going to land your dream job.  Over the summer, I did read an excellent book called PAID TO BE YOU: A Guide to Getting Unstuck, Finding Your Passion, and Launching a New Career by Adam Rico. Adam is an career and executive coach and states that "it's not as much a matter of "finding" a job – it's more a matter of becoming the person you were born to be."  I LOVED this concept.  This could be your first step in re-defining your career search. Buy the book (I don't get royalties) and explore things such as:
Four Areas You Must Have to Enjoy Your Work
Balancing Dreams and Practicality
Change Your Thinking
It's a quick read and guaranteed to get you thinking about your career approach differently.
I'll be back in 2016 with other ideas of what you may want to consider.
Merry Christmas!!