Someone once said that: "80% of your success is just showing up" for a job interview.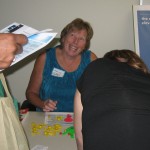 Perhaps there was a time when this was a measure of success, but in todays job market, you need to thoroughly prepare for an interview, so that you show up with substance. It can make a tremendous difference in how you are perceived as well as help to reduce your nerves. More and more companies are looking for the right candidate using a variety of techniques and it's often more than just "knowing how to do something well." Organizations are now looking for the skills, talent and cultural fit. For example, do you prepare and research the job prior to "just showing up?" Have you given thought to who is interviewing you? Did you review the job description, tailor your resume to the requirements and are you now prepared to give examples of how you can make a difference in the organization? What have you done to demonstrate initiative and excitement about your possibilities with this company? Are you doing everything possible to ensure you SOAR at the interview? Fortunately, while the hiring process may seem mysterious and the "luck of the draw," there's a basic blueprint that may well help you prepare for an interview:
1.    Get to know the employer or interviewer.  
I'm often surprised when people come to an interview and know little to nothing about the company. Trust me, it shows. Rarely does an employer want a body who wants a job. By taking 15 minutes or more, an applicant can easily go to the employer's Web site and, at a minimum, read the "About Us" section, learning about the mission, vision and values of the organization; the companies leaders or their key products as well as the competition. If you are working with a recruiter, learn if they are a contingency or retained recruiter. Establish the relationship as recruiters often hold the
hidden jewels
of the job market (undisclosed jobs) and have connections. They can help in keeping your resume from being just another one "on the pile."  Ask them questions that will help guide your job search. Does your resume position you correctly? Are your skills up to par?  What would they recommend? Remember that you and a recruiter have the same goal, and that is to make sure you are putting your best foot forward, meeting the right people and, hopefully, making the perfect match.
2.    Know the job description as if you wrote it!  
Often candidates get an interview and think they are home free. Flawed thinking, for sure. Now is the time to pull out that job description and go through it line for line, thinking about your experiences and skills and how they fit. Write down examples from your past with supporting evidence of how you would excel at this job. Don't worry that you aren't a perfect fit, just think about how you could be a match and get aligned. Think about yourself doing the job. What would you bring to the table? What possible challenges might there be?  How can you weave these into a positive interview?
3.    Practice and prepare, then do it some more.  Write down at least 10 interview questions that you are likely to be asked and write out your answers to them. Some may include: "what interests you about this job?" "Why are you leaving your current job?" "Why do you think you are a fit for this job?" "Give me an example of a challenge you had on your last job and how you overcame it." Say the answers out loud, which will help to increase your comfort with them, as well as overcome any stumbling blocks some words may give you. 4.    Dress for success.  One would think that this would be a given, but I've seen candidates come to an interview in jeans (with underwear showing), flip flops and more. No, they did NOT get the job. This attire may be GREAT for a phone interview or job at the beach, but if you are looking for a career job, make it your business to find out what the dress code is for the company. It takes 3 seconds for someone to make an impression of you. Be sure to make a good one even before you speak. When someone sets up the interview, ask about the company dress: "is it business casual? Suits?"  One tip: even if it's company jean day, make it your practice to dress for success. 5.    At the end of the interview, ask questions (even if they don't ask you "do you have any questions?"). Having done research on the company and knowing your job description, you should now have some questions. Ask open-ended questions (those that can't be answered with a "yes" or "no") to find out more about the role you are applying for and the company culture.  Find out about next steps and a timeline for getting back to you. Don't forget to thank the interviewer for their time and an opportunity to learn more about the position. Sometimes you may want to end with "I look forward to hearing from you and having an opportunity to contributing to the company's success!" Here's to your S.O.A.R.ing!