Fans in Baltimore are beyond excited as well as exhausted after a nail-biting Super Bowl. It was a roller coaster ride with the Ravens taking a 21-6 lead in the first half and extending it early in the third quarter with a 108- yard kickoff return. Then, the lights went out and the Ravens momentum stopped. Wait, I can hear you shouting at the screen: "Nancy, you aren't a sports analyst much less a sports reporter. What gives you the right to comment on the Super Bowl?"
Well, I must tell you, I think that this game was very similar to a job search. You plan your game (the job search); you practice (whether you are writing and re-writing your resume or preparing for your interview); you take the field (getting excited about your opportunities); you go out for the pass and sometimes you miss (finding out you weren't the ideal candidate or a match for the job). Looking for that ideal job, pursuing that "touchdown" in your own life, can have it's ups and downs and there are days when you feel as if the lights have gone out and there is no chance of winning.
When you see things aren't going just as you planned, perhaps even spiraling out of control, that is the exact time when you must re-focus; re-adjust your game plan, if necessary, and pursue your dream with a renewed vigor and tenacity.  Don't give up! Call in your special teams (your friends, your family, your mentor) and ask them to review your resume. Go for a long pass and see if they can help you extend your network and get the word out about your interests and pursuits. Then, get ready to rumble and/or SOAR. You can make your dream happen, as did the Baltimore Ravens, 2013 Super Bowl Champions!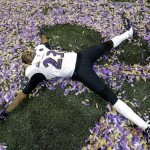 Here's an article I found to be an inspiring read, not necessarily about planning a job search, but about re-adjusting and listening to others and leveraging their strengths.
http://business.time.com/2013/02/01/the-new-way-to-win-super-bowls-leadership-lessons-of-the-nfls-cutting-edge-coaches/ 
Playoff games today are happening today and the Baltimore Ravens will be playing for the right to go to the 2013 SuperBowl. (There may be a few more teams in the game, I'm sure, and you may be their fan. Good luck. Can you tell what color shirt I'm wearing as I type?)
It's most exciting as people cheer for their home team. I've been reading articles about how the Ravens (and others) are preparing for the game and I think it is so cool these football players are doing what they love and playing to their strengths. What a fabulous concept for how to live your life!  (Of course, making fabulous money isn't so bad either, but there is hard work that goes into their day-to-day job, all for our enjoyment.)
It made me think of Marcus Buckingham, the author of the book "Go Put Your Strengths To Work."  Here's a video clip that may provide you with some inspiration as you think about playing to your strengths!
Thanks to you all of you who contacted me about "the blog" last week and who shared it with others. I'm glad these ideas are resonating with you! When chatting about this with some of you, I found a few more tips spilling forth in my mind and wanted to share them with the S.O.A.R. community (don't you love it?)
1. When sharing your work experience avoid using the words "responsible for" and add action verbs to promote your achievements!  They make strong impressions and give your resume POWER and direction. Think about using "created, formulated, facilitated, executed and more." Do a search on the web for "action verbs" to inspire you!
2. Quantify and qualify your contributions for your potential employer. Replace "responsible for growth of the company" to something like" gained 20 percent improvement in net profit by focusing on team-building,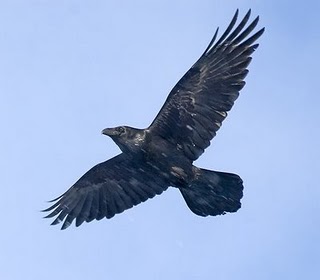 employee engagement and emphasis on ioi" (internal operating income).
3. Spell-check, review, spell-check again and ask someone else to look over your resume. Begin with a good first impression and eliminate the chance of your resume getting "tossed" because of a silly mistake.  Don't leave it up to your computer spell-checker. It often misses words such as "their/there; then/than; affect/effect; its/it's and more. Spelling and grammar checks aren't a replacement for a human set of eyes.
Keep the ideas, comments and "likes" coming!
"How wonderful that no one need wait a single moment to improve the world."  (Anne Frank, 1929 – 1945)
To be truly successful in your job search, you must make sure that you include two essential items needed on your resume (there are more and I'll write about them next week). The competition is fierce in the job market and ignoring a few simple rules may result in your resume experiencing the dreaded control – x or delete.
Contact Information
All too often contact information is missing or left off of a resume. Take a moment now to make sure that underneath your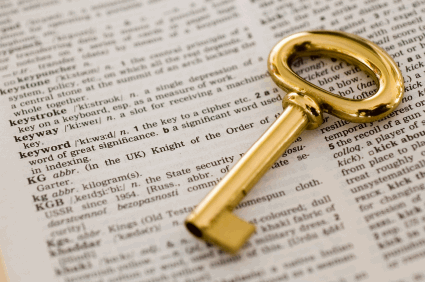 name is your mailing address, email address and phone number.  Don't get cutesy with your email address. Sirchugsalot@emaildomain conveys a personality that may not be putting your best foot forward, so set up another account that doesn't label you and is professional.
Keywords are Key
Pull out the job description that interests you and highlight the key words. Insert them in your resume in the objective or goal section – right up front!  Having the right keywords is especially important for online applications, because they are frequently screened by computer programs looking for the right words. Do a little research and look at the employer's mission statement and history to rephrase your experience to fit not only their perceived or published needs, but perhaps another job unlisted.
By paying attention to these little details, your resume is more likely to SOAR to the top  and not get passed over without a second look.
. . . live the life you had imagined" is what Henry David Thoreau suggests to us.  Dreams come in all shapes and sizes and your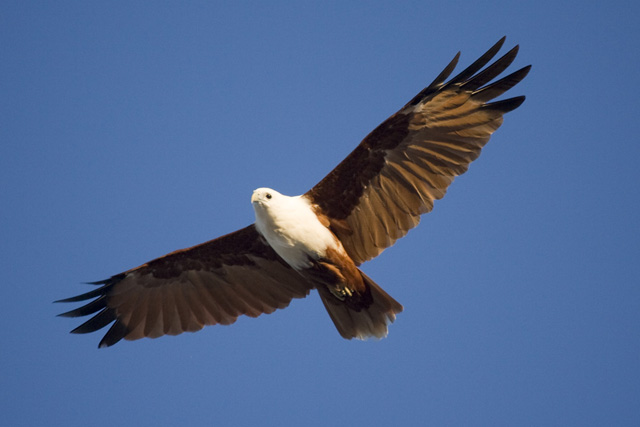 first step in living your dream is to decide what you really want to do with your life. Look through the job sites and see what appeals to you. If you don't have the skills (yet) or need more experience, think about volunteering.  Be sure to look at your resources before making any rash decisions. A pathway to bliss takes clear thinking, planning, research, an open mind and firm, if not "some," financial footing. Talk with others about your ideas and seek guidance from a trusted person. Let me know if you want to chat about your future or explore your passion and ideas for pursuing it with an objective coach!
Happy New Year! Here's to SOARing in 2013!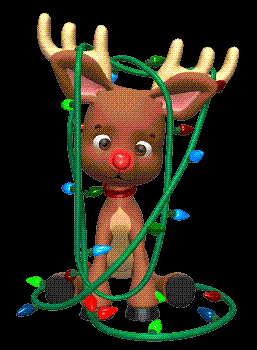 'tis the season for holiday parties and what a networking paradise! Almost any neighborhood, family or business gathering may produce an opportunity for a conversation with someone who has information you can "mine" unobtrusively for leads to new career challenges for yourself and those you know. In addition to the family and friend parties, select a few in the industry where you are most likely to have face time with individuals to whom you want to show your potential, unique talents and interests.
Remember to stay focused! To leverage the full benefits of holiday networking, you must be alert and stay sharp. Don't overindulge in food or beverages. Think about leaving your ugly Christmas sweater at home, unless it is an ugly Christmas sweater party. Conduct yourself professionally at all times. Don't forget to have a business card or two ready to share. The ROI is simple. Just one meaningful conversation can open a door. It's the quality not the quantity of relationships developed, pursued or renewed.
I'll toast to that!
"At times our own light goes out and is rekindled by a spark from another person. Each of us has cause to think with deep gratitude of those who have lighted

the flame within us."  Albert Schweitzer
I ran across this quote tonight while I was web surfing (the only type of surfing I will ever master) and it inspired me to write a quick Thanksgiving night blog. While we ALL love the day filled with turkey, families and friends, it is also a time to focus on the things for which we are grateful. This may be particularly true while job hunting. Gratitude is critical to the success of any job search.
Perhaps you have heard of the Law of Attraction or the concept that "we attract whatever we think about, good or bad." Whether or not you believe in the power of the universe, there is something to be said for believing in positive things happening versus taking the negative Nellie or Ned approach and worrying. Take time to think about the good in your life and appreciate those who surround you – those who may have lit a spark in the past or may be the flint that will help you at this time. That positive energy will shine, for sure!
The Thanksgiving weekend may be an ideal opportunity to take a moment to write a thank you note or an email to those who have helped you in your job search. Check in with those you may have not connected with in a while, by sending an email or a quick message on LinkedIn and wish them a happy Thanksgiving.  Let others know that you are in the midst of a job search or are exploring what your dream job might be.  Oprah Winfrey said "be thankful for what you have; you'll end up having more. If you concentrate on what you don't have, you will never, ever have enough!"
My thanks to all of you who continue to encourage me in this endeavor and have taken the time to read my blogs and provide suggestions/insight. I'm grateful and count my blessings that you have added the spark to my life! Happy Thanksgiving!
Finding a job in the market today is very different from 10 years ago.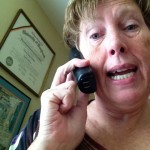 Today, your resume must include "key words" that a computer scan will pick up during the initial screening and, if that passes the test, you may receive an opportunity for a phone interview.  Ensuring that your resume has been crafted to meet that job posting, followed by being prepared for that phone call will help boost the chances that you will be called in for an interview.
In a recent newsletter from the Society for Human Resource Management (SHRM) a recruiter in the Toledo, Ohio, area noted that "recruiters are looking to confirm qualifications listed on the candidate's resume, clarify any grey areas, gain further insight on work history and skills, inform the candidate of the position, judge interest, and kick off the application process."  Experienced recruiters can gauge your energy, interest and communication skills easily through a 15 – 30 minute conversation.
This interview is also a great time to assess whether or not you would like to work for a company and the position is right for you. While you want to be prepared to answer all of the recruiters questions, you may also want to prepare a few on your own.  Be sure that you have done your homework and research the position and company. You may want to ask the question: "why is the position available; is it a new position, did the former employee retire, did they quit, were they promoted?"  This gives you more insight into the company and the job.
Finally, work on your telephone voice and make sure that your tone reflects energy and enthusiasm.  (Ask a friend or colleague for feedback on how you come across on a phone).  Do you sound engaged? Friendly? Interested?  The telemarketing industry used to recommend that you "smile as you talk" and your smile will be reflected through your voice.  (BTW, did you know that smiling boosts your immune system?)
Here's to soaring over the phone and seizing that next interview!
Someone once said that: "80% of your success is just showing up" for a job interview.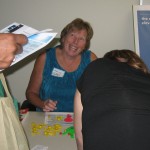 Perhaps there was a time when this was a measure of success, but in todays job market, you need to thoroughly prepare for an interview, so that you show up with substance. It can make a tremendous difference in how you are perceived as well as help to reduce your nerves. More and more companies are looking for the right candidate using a variety of techniques and it's often more than just "knowing how to do something well." Organizations are now looking for the skills, talent and cultural fit. For example, do you prepare and research the job prior to "just showing up?" Have you given thought to who is interviewing you? Did you review the job description, tailor your resume to the requirements and are you now prepared to give examples of how you can make a difference in the organization? What have you done to demonstrate initiative and excitement about your possibilities with this company? Are you doing everything possible to ensure you SOAR at the interview? Fortunately, while the hiring process may seem mysterious and the "luck of the draw," there's a basic blueprint that may well help you prepare for an interview:
1.    Get to know the employer or interviewer.  
I'm often surprised when people come to an interview and know little to nothing about the company. Trust me, it shows. Rarely does an employer want a body who wants a job. By taking 15 minutes or more, an applicant can easily go to the employer's Web site and, at a minimum, read the "About Us" section, learning about the mission, vision and values of the organization; the companies leaders or their key products as well as the competition. If you are working with a recruiter, learn if they are a contingency or retained recruiter. Establish the relationship as recruiters often hold the
hidden jewels
of the job market (undisclosed jobs) and have connections. They can help in keeping your resume from being just another one "on the pile."  Ask them questions that will help guide your job search. Does your resume position you correctly? Are your skills up to par?  What would they recommend? Remember that you and a recruiter have the same goal, and that is to make sure you are putting your best foot forward, meeting the right people and, hopefully, making the perfect match.
2.    Know the job description as if you wrote it!  
Often candidates get an interview and think they are home free. Flawed thinking, for sure. Now is the time to pull out that job description and go through it line for line, thinking about your experiences and skills and how they fit. Write down examples from your past with supporting evidence of how you would excel at this job. Don't worry that you aren't a perfect fit, just think about how you could be a match and get aligned. Think about yourself doing the job. What would you bring to the table? What possible challenges might there be?  How can you weave these into a positive interview?
3.    Practice and prepare, then do it some more.  Write down at least 10 interview questions that you are likely to be asked and write out your answers to them. Some may include: "what interests you about this job?" "Why are you leaving your current job?" "Why do you think you are a fit for this job?" "Give me an example of a challenge you had on your last job and how you overcame it." Say the answers out loud, which will help to increase your comfort with them, as well as overcome any stumbling blocks some words may give you. 4.    Dress for success.  One would think that this would be a given, but I've seen candidates come to an interview in jeans (with underwear showing), flip flops and more. No, they did NOT get the job. This attire may be GREAT for a phone interview or job at the beach, but if you are looking for a career job, make it your business to find out what the dress code is for the company. It takes 3 seconds for someone to make an impression of you. Be sure to make a good one even before you speak. When someone sets up the interview, ask about the company dress: "is it business casual? Suits?"  One tip: even if it's company jean day, make it your practice to dress for success. 5.    At the end of the interview, ask questions (even if they don't ask you "do you have any questions?"). Having done research on the company and knowing your job description, you should now have some questions. Ask open-ended questions (those that can't be answered with a "yes" or "no") to find out more about the role you are applying for and the company culture.  Find out about next steps and a timeline for getting back to you. Don't forget to thank the interviewer for their time and an opportunity to learn more about the position. Sometimes you may want to end with "I look forward to hearing from you and having an opportunity to contributing to the company's success!" Here's to your S.O.A.R.ing!
Did you know that the biggest omission of job applicants when writing their resume is to mention thention their accomplishments?  Many people seeking employment quickly list their job duties and completely overlook talking about the work they have done and accomplished. Often,  I see resumes with bullet points saying:
over and over and over again.  "If you don't outline what your action and then your results were with a particular employer, all I know, as the hiring manager, is that you say you can do the job duties. What makes you stand out as a possible new employee is what you can do for me as the employer," said human resource consultant Nadine Cummins SPHR of Phoenix-based HR Compass, LLC. "What have you done that can have value to our organization?"
People often struggle with how to highlight their contributions to an organization or "promote themselves."  A professional resume writer can help the individual show the value they may bring to their new employer. Other issues with resumes include spelling, grammar, punctuation, formatting and language usage, which may reflect the lack of attention to detail and carelessness.  These glaring errors can quickly promote YOUR resume to the circular file.
Hiring managers and/or Human Resources typically average between 10 – 30 seconds per resume (after being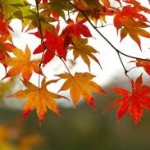 screened by the computer) so it is important that the applicant communicate effectively in the written word, so that their resume ends up on the top of the interview pile.
Here's to your soaring and securing that interview and a glorious fall!