A Reflection on Mother's Day 2017
When you lose a mom, no matter your age, it's not easy. I lost my wonderful mom when I was 20 years of age. It was beyond tough! And, every year Mother's Day comes along and while you try to remain positive, there's a hole in your heart and your life can feel out of balance. Facebook makes it easier and harder all at the same time. It's nice because you can post a tribute to your mom and her legacy lives on and your friends get to know or see her, many of whom may have never had the pleasure of meeting her. It gets a little harder when you see everyone gathering to celebrate their moms. Although, it's fun to see pictures of their joy and love, well, it can just make you sad that you will never hear the sound of your mom's voice or her laughter or get that special mom hug or have one more chance to say "I LOVE YOU!"
So, how does one cope on Mother's Day? How does one find balance? I opted to make a short trip to my slice of heaven, Assateague Island, to see my friends, human and ponies. May 14, 2017 was a beautiful day after almost a week of rain, so I had high hopes that I would run into someone. Luckily, I hooked up with Lou and Karen Lockard and we traversed the OSV (Oversand Vehicle. Oh, how they know that part of the island and they can spot stuff way before me. Karen tells me I'll learn, but, they are like encyclopedias (remember them?)
We believe the OSV will soon be shut down 'cause the PIPING PLOVERS have arrived and are making nests. I thought I had captured a picture of the little Plovers as well as an Orange Bill Oyster Catcher (who knew there was such a bird), but found out on Md. Birding Facebook site that I got the Plovers distant cousins, the Sanderlings. Dang! That being said, we traveled to the Virginia State line and saw nature at its finest, albeit no ponies. The waves were relatively calm and there were lots of surf fishers (one guy showed us his catch for the day. Two fine, very large rockfish). The cypress trees, from the old Assateague Forest, were exposed and showed how the beach is eroding. Fascinating. Sadly, we also saw a dead tuna (dang, it was big) who was providing lunch for the wild birds.
| | |
| --- | --- |
| | |
Then, Eureka. Lou spotted Bodacious Bob (BB). Now, BB is a pinto stallion, who has difficulty "hanging on to his women."  (He's older and I don't know his official birthdate, not that I think this is why he has difficulty holding on to anyone). He's usually a loner, but, when he does "hook up" the locals cheer and hope it will continue. He's been with Giggles and her foal now since winter and I hear that the foal has been constantly trying to get him to play. We hoped to see that yesterday, but, they were a very mild group, munching on the green springs of grass behind the dunes. As a matter of fact, as we watched, the foal (N9BMJO, who has not been named yet) took time for a little nursing (afternoon snack, I guess) and proceeded to collapse on the beach. I'm guessing the sun felt good! Watching them, however, was when I realized I had found my balance again and was witnessing the "circle of life." After all, here was a mom and her baby, along with a step-dad (at least for now).We went back to the Ocean Side Campground and found Delegate's Pride (Chip) and his band of women raiding a campsite. Annie Laurie, my foster pony, was relentless in trying to get the barbeque sauce out of the green trash bag. Chip, the randy fellow that he is, was very frisky with one of his mares (April Star, I believe), while Something Special and another mare were minding their own business. We helped get Annie Laurie under control, watched Chip satisfy another "kind of itch" and then watched the beautiful sunset. Oh, how I LOVE this island.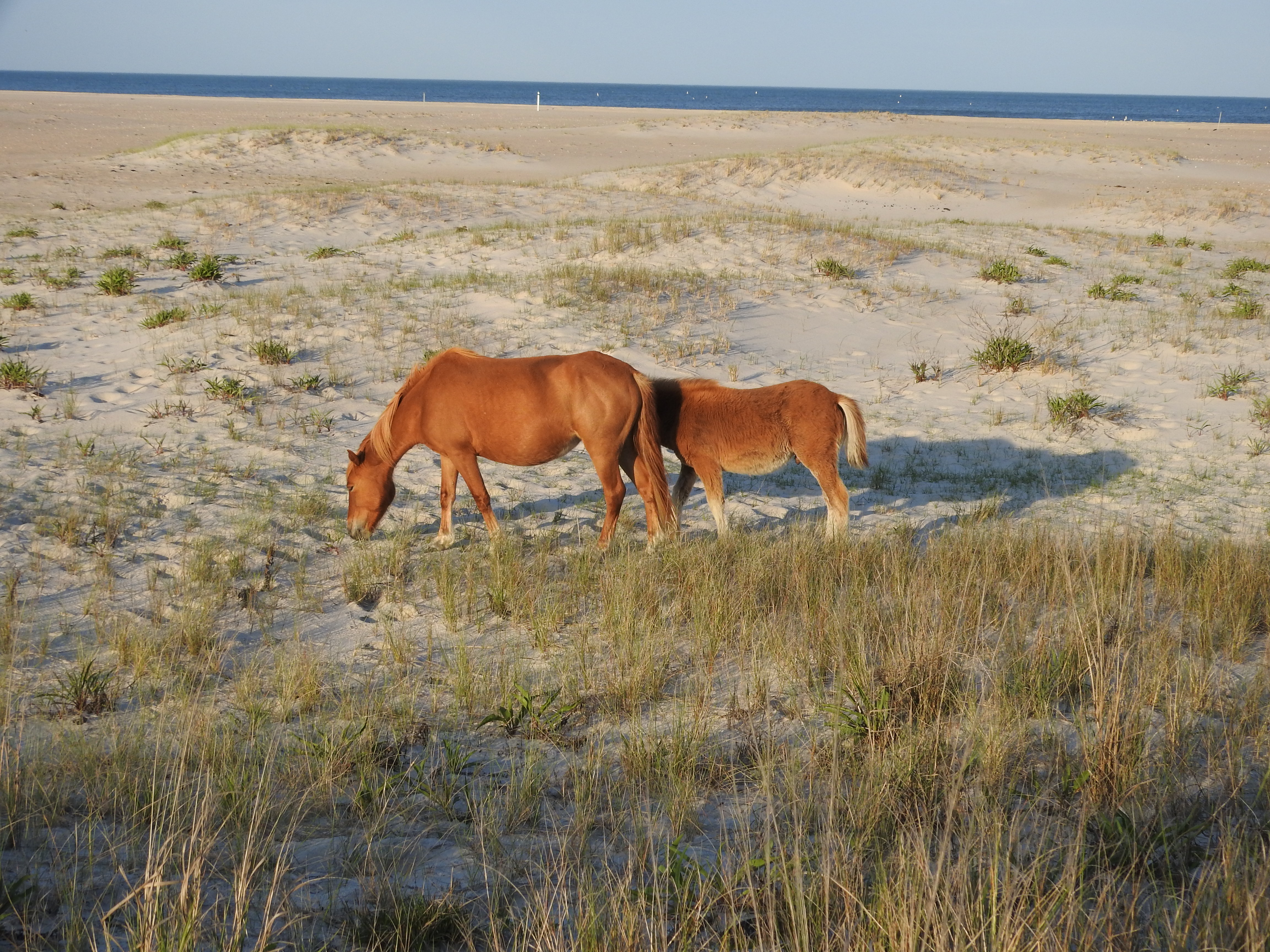 The day after Mom's day, I headed back 'cause the weather was so beautiful and I had to share a couple of the fun shots I got of the island Cougar, Ms. T (age 30) and Corky (age 17). Ms. T really doesn't have a name yet and is up for adoption, if you are interested. They were quite content, however, hanging in the bayside campground waiting for the campers to leave out some food accidentally.
So, once again, the balance is back and I'm looking forward to what tomorrow will bring! I hope you had a great day and, if you didn't have folks to spend it with, I hope you found balance in something you enjoy doing!
Note: have had some difficulty loading the pictures from this adventure, so, hopefully, I'll get this resolved in the near future!